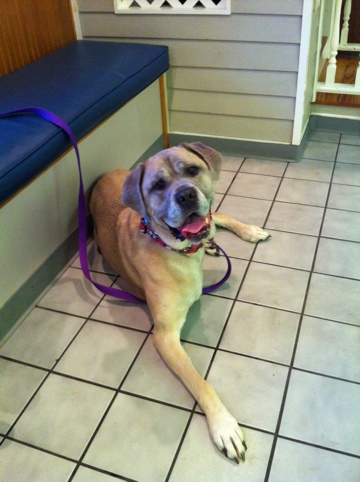 It's been quite awhile since I've posted and I'm sorry for the delay.
Bellona is still doing awesome. 5 rounds of Chemo are done and 1 more to go. We recently changed to Dr. Pam for Bellona's care. Our vet of 9 years moved away and it was a good opportunity to seek out Dr. Pam since she's active in the Tripawd community and has been in our shoes before.
Most of the delays in blogging have been for personal reasons. We finalized the adoption of our daughter and our additional 2 dogs have come home.
We truly have a full house now with 2 Cane Corso, 2 shortie Jack Russells, a 3-1/2 year old and my husband and I.
Dash, one of our Jack Russells is a crazy Epileptic boy and requires more special care than Bellona. Dash is handful and as I said before he could use his own blog for all of his crazy capers.
Here are some recent photos of Big B. Thank you for still reading about our Princess Bella Bellona.